2021 Nissan Murano at Tracy Nissan
There has never been a better time to make the change to a crossover vehicle. Equipped with both style and utility, the 2021 Nissan Murano at Tracy Nissan proves that form can go hand to hand with function. The 3.5-liter DOHC 24-valve V6 engine provides an impressive 260 hp and gets 20 mpg city and 28 mpg highway. With up to 67 cu ft of rear cargo space, you will have enough room for any large cargo needs. We at Tracy Nissan know how stressful vehicle shopping can be, so we have created a list of the best features found in the 2021 Nissan Murano for sale in Tracy to help you decide if this is the crossover SUV for you. Let's jump right in and see what this sophisticated SUV has to offer.
2021 Nissan Murano for sale in Tracy Safety
The 2021 Nissan Murano at Tracy Nissan is equipped with several safety features to ensure that you arrive at your destination with ease. The Safety Shield 360 comes standard and acts as an extra set of eyes on the road. The Rear Automatic Braking feature has got your back, literally! This feature watches behind the vehicle to make sure that you do not get too close to any objects. Take it easy with the Intelligent Cruise Control, which will automatically adjust your speed to match surrounding traffic. Automatic Emergency Braking with Pedestrian Detection can detect the vehicle in front of you and adjust your speed or apply the brakes if you are getting too close. The Blind Spot Warning puts eyes where yours cannot see, warning you of any potential danger.
2021 Nissan Murano for sale in Tracy Interior
The 2021 Nissan Murano at Tracy Nissan experience begins before you even enter the cabin. You can use the NissanConnect app on your smartphone to remotely start your Murano and the Intelligent Climate Control will automatically adjust to your temperature preference. If that isn't luxurious enough, the driver's seat, side mirrors, and steering wheel will also adjust so that your everything is set up to your standards when you enter. After sinking into your comfortable seat, you are ready for take off! Connect your smartphone through Apple CarPlay or Android Auto to access all your favorite apps. You can also get set by set navigation through your smartphone using voice command so your attention can stay where it is needed; on the road. The fully Bluetooth compatible 2021 Nissan Murano for sale in Tracy allows for all your calls and texts to be made hands free as well. You and your 5 passengers will enjoy listening to your favorite songs through the elven speakers, which are placed strategically around the cabin.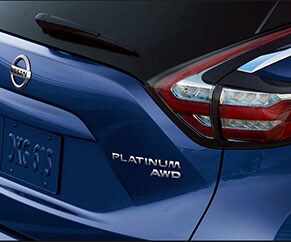 Tracy Nissan
The 2021 Nissan Murano for sale in Tracy, at Tracy Nissan, is just one of the great vehicles on our lot. We pride ourselves in only having the highest quality inventory on our lots and giving our customers the best car buying experience. We have been helping people from Stockton, Pleasanton, Modesto, Manteca, and beyond for years and love seeing our customers satisfied. Come in today to experience the new 2021 Nissan Murano for sale in Tracy, at Tracy Nissan!
2021 Nissan Murano Review Tracy